Farm Produce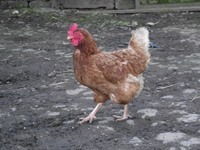 Farm Produce
Fresh farm produce can be purchased from the farm.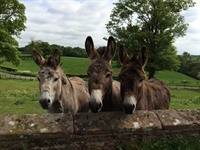 Donkey Rides
Enjoy a ride on our friendly donkeys!
£10 for 30 minute session including a ride, grooming and feeding.
Please contact prior to arrival to book.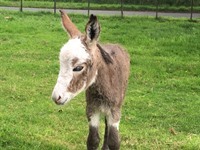 New arrival born 17th July 2017.
Cissi born 17th July.
Out & About A Short car journey away you will find the local town with shops, bars and many food establishments.
Situated on the Sustrans cycle route.
Short Walk to the lovely Hidden cafe cabin & restaurant.
Across the river / short drive to Kirklinton Hall & Gardens: 17th Century Ruin: Fun, Food, Fairies and Pigs!!
Farm Paddock The field in front of the house has a number of animals for you to meet. Our donkeys - Winnie, Bobby & Cissi Goats: Bella & Billy Lambs Calves If you have any left over fruit or bread pop up to feed them, they're very friendly!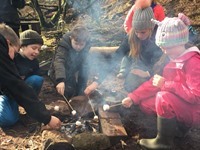 Forest Fun Holiday Club During the school holidays Catherine runs a holiday club down in the forest for local children. Guests staying in the pods are also very welcome to join our session whihc runs from 10am - 3pm at a cost of £20. However there is a discount for River Pod guests. During the day we build shelters, play games and do lots of natural art and exploring in the forest. Summer dates: Thursday 9th August & 23rd August.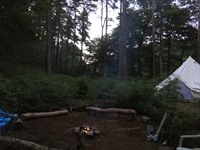 Family Forest Adventure Catherine who is a trained forest leader & teacher will take you and your family on a trail through the forest, together you undertake lots of fun activities including building your own fire & hammock plus use some forest tools to make items of craft which you can take home to remember your time at Broomhills. This session will last for 2 hours and the cost is £30 for a 1 1/2 hour session. This must however be pre booked before arrival.